This email address is an image to help reduce spam.
Last updated
21st September 2014
Dutch-Belgian army of the 1815 campaign
Introduction
This army to life with a project at my local wargames club to refight the battle of Waterloo. A gaming friend already had most of the French army at Waterloo and I decided to get the Dutch Belgian forces (and eventually the Prussians). After some research they appeared to be better than a lot history has portrayed them, and are a colourful army to paint. For the army I went with Baccus figures as my experience with them in the past has been very good. Baccus has rescupulted their Napoleonics and the quality of their newer ranges is noticeably better compared to my Austrian figures. On final note, I'm not sure about the acurracy of the flags and whether or not the units have the right ones, or if they even had been issued with them during the campaign (I was in a rush and just glued the on)! Each base represents a Brigade and I used primarily Nafizgers OOBs for make up of each brigade, with some modifications for the pre battle attrition and our scenario.



Click on the thumbnails to see the full sized image
Prince of Orange
---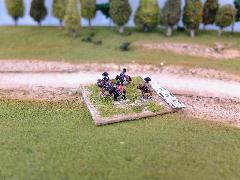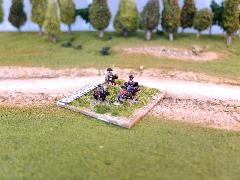 For this famous commander I used a mix of British and Austrian command figures, along with a few spare Dutch/Belgian light cavalry figures. The base depicts the Prince with a number of Dutch and British aides.
Bijlandt's Netherlands Brigade
---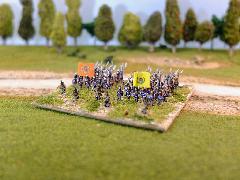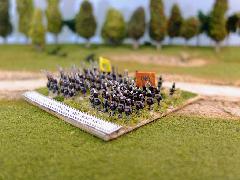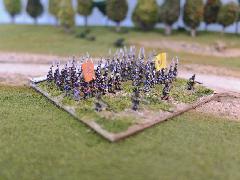 This brigade consisted of the 27th Dutch Jaeger Bn, 7th Belgian Line Bn, 5th, 7th, 8th Dutch Militia Bns. I'm not sure how many Militia were present at the battle so I painted one battalion of Line and 1 Militia battalion for this base.
Detmer's Infantry Brigade
---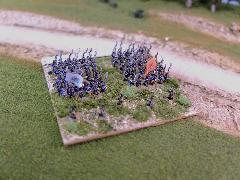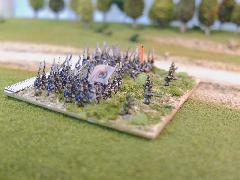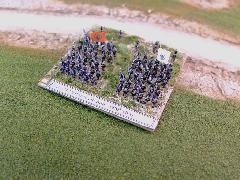 This brigade consisted of the 35th Belgian Jaeger Battlion, 2nd Dutch Line, 4th, 6th, 17th, 19th Dutch Militia Battlions on paper. Obviously that is a lot of units to represent, and I'm not sure that all the Militia were present at the battle, so I chose to primarlily depict the line units.
D'Aubreme's Brigade
---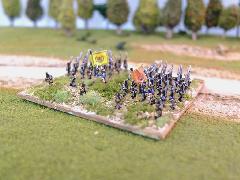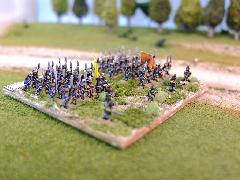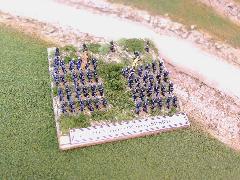 A brigade from the 3rd Division which were originally stationed near the battle but beacame embroiled. This brigade was made up of the 36th Belgian Jaeger Battalion, 3rd Belgian Line Battalion, 12th, 13th Dutch Line, 3rd, 10th Dutch Militia Battalions.
Saxe-Weimar (Nassau) Infantry brigade
---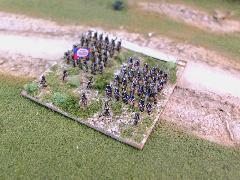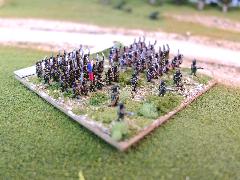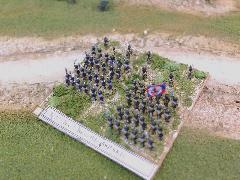 A rather famous contingent during the campaign. This Nassau brigade included the 2nd Nassau Infantry Regiment, 1st, 2nd, 3rd Bns 28th (Orange Nassau), Line Regt (Saxe-Weimar)1st, 2nd Bns and the Nassau Jagers, which is a lot to cram onto a single base. These guys stand out due to the green uniforms of the Nassau units although the green paint I used was not a great colour match. For the Nassau figures I used French Elite line figures.
Von Kruse's Nassau Reserve Infantry brigade
---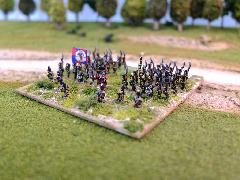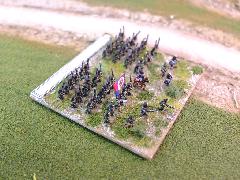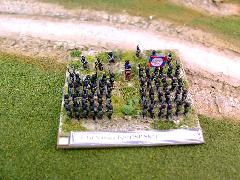 Another Nassau base with a colourful mix of units comprising of the 1st Nassau Regt, 1st and 2nd Landwehr Bns. Again French Line figures were used but they were painted in the Nassau green colours.
Ghigney's Light Cavalry brigade
---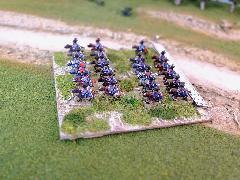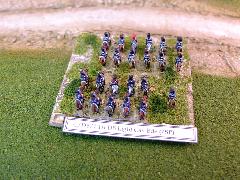 This is half of the Dutch Belgian cavalry at Waterloo. I painted both Brigades up but a lot of OOBs have the 2 brigades (perhaps due to attrition). I didnt realise until later so I have both brigades and this brigade comprises of the 4th Dutch Light Dragoons and 8th Belgian Hussars.
Merlen's Light Cavalry brigade
---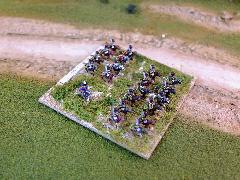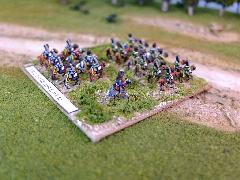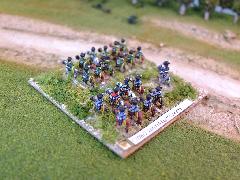 The second Brigade of DB light Cavalry listed in the OOBs. This brigades had the 5th Belgian Light Dragoons and the 6th Dutch Hussars. They are nice figures and paint up very well.
Trip van Zoudlandt Heavy Cavalry Brigade
---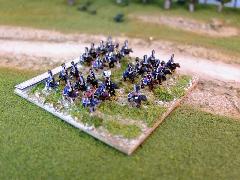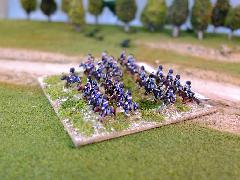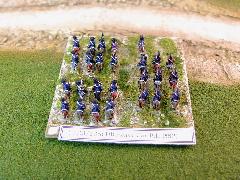 The single Dutch/Belgian Heavy cavalry brigade contained the 1st and 3rd Dutch Carabiniers, and 2nd Belgian Carabiniers. The Dutch Carabiners wore a bicorne and Baccus recommends using Spanish cavalry, but I decided to convert some spare Austrian Chevaulegers as I only needed 16 figures. I trimmed their helmets and used modelling putty to shape the bicorne. Not the best conversion but on the table they look fine. For the Belgian Carabiniers I used Austrian Currassiers and snipped off their carbines.
Dutch Belgian Artillery
---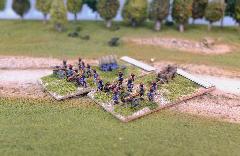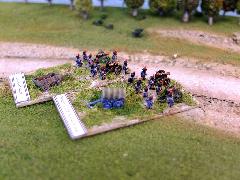 My research showed that the DB artillery was armed with artillery pieces from a number of sources and didn't get the commonly depicted grey artillery (ex-British pieces) until after the 1815 campaign. For some variety on the artillery bases, I used a various H&R wagons instead of limbers and added a couple of spare generals on to the bases. I will add some French limbers in the future to fill out the bases more.