This email address is an image to help reduce spam.
Last updated
21st September 2014
Think Russian - Scratch building a Firefox in 1/300th scale
Construction stage 2
Sorry about the photos they were taken at different times of the day, hence the different lighting and picture quality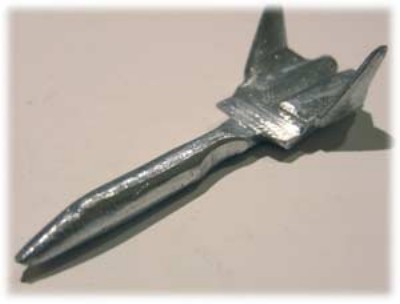 ---
More reshaping

The model is looking less and less like a Berkut. In hindsight I could could have used almost any twin fin aircraft because I've changed it so much. In this photo I've thinned the fuselage, removed the existing cockpit and reshaped the nose to be slightly blunter.

Later on I hacked around the fuselage a bit more and shaped the air intakes with a knife and some files. The areas around the jet engines were also reshaped to a squarer shape similar to the pictures of the firefox I have.
---
---
Reshape the fuselage

The fuselage has been built up to the shape of the firefox with some green stuff. I carried this right through to the back but as I discovered later it was slightly wrong (see the photo below for a better picture).
---
---
Making the wings

Each part of the wings were made from two thin pieces of plasti-card laminated together with plastic glue. I did it this way because it was the only stuff I had handy and I could insert some thin wire between the layers. I also angled the joins in the wing to make it fit better and used liberal amounts of plastic glue to create a strong join (along with the wire reinforcing).
---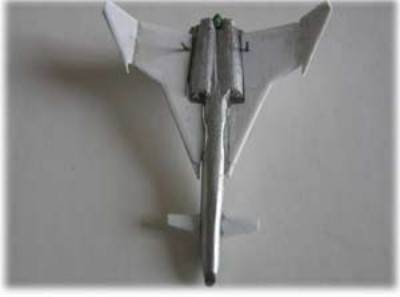 Attaching the wings
The wings were attached but it took me a few goes to get it right. The wings were difficult to get straight and the I had to reshape around the area where they contacted the main body, to get a better fit. I added a wire pin to attach the main wings but ended up drilling right through one of the top fins while doing this (see the next picture).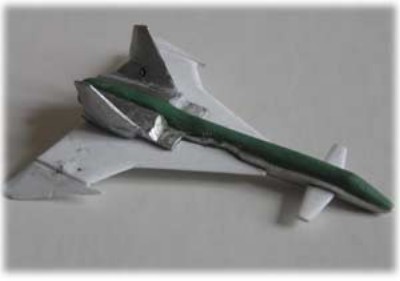 Progress so far
I think its starting to resemble a firefox quite well now. With a lot of filler it will hide the joins between the wings and the body and give it a more curved look.

I'm not totally happy with the postion of the wings, but its close enough. Next I need to hack to bottom of the air takes to be level with the wings and build up around the engine, fuselage and wings with green stuff.