This email address is an image to help reduce spam.
Last updated
21st September 2014
Arnhem bridge
Background
I was kindly sent this model by The Baggage Train for a review and a construction guide, but for a lot of reasons it sat in a box for many years. At the time I was at the beginning stages of making my terrain boards at the time and didn't really know how I would incorporate the bridge into the boards as the work was already under way. So it languished in a box for a few more years while I completed my boards and wondered how I could add large rivers onto my boards. Once all the other boards were finished I was concerned with the weight and storage of my boards and another 4-6 river/coast boards would be too much. Also I wanted to have a coastline and thought that I could use 2 coastline pieces opposite each other to create a wide enough river for this bridge. However when I changed my boards a year or so later, by removing the interlocking teeth and using aluminum edging, this meant that I could make different sized boards, and this has made it easier to have boards for unique pieces like this bridge, but without creating too much extra storage and transport hassles. Not long after the boards were refurbished with the new edging, I sold them off.
Eventually a desire to finish new projects before starting any new ones, meant a new focus on this piece, even without supporting terrain boards. So future plans for this bridge are to make 2 custom river bank board sections with two large bases for the bridge ramps. The extension pieces of the bridge will be used as ramps and I will create a new motorway and road sections to join onto it (probably in a second part).
Onto the model itself, which is very large and impressive and would make a great center piece especially for a display games. While I don't intend to use it for Arnhem at this time, it will be very useful as an impressive generic large bridge (and I think 6mm games/tables need impressive terrain features to show off the scale well).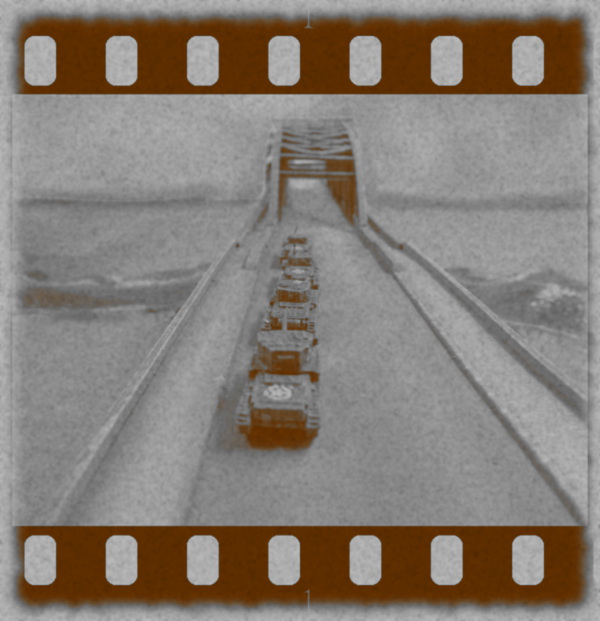 Click on the thumbnails to see the full sized image. Note these are about 4 times large than real so it isn't very flattering!