This email address is an image to help reduce spam.
Last updated
21st September 2014
Step by step instructions for basing 6mm buildings
Introduction
This page is my step by step guide for basing 6mm (1/300th) buildings. I use the Spearhead sized basing scheme (which is 90x90mm square) which I think works well. Usually you can get 2-3 buildings onto a base along with a few trees and foliage. My roads are separate because I found there wasn't much room on the bases if there were roads as well.

These can be made in batches of 6-10 bases at a time, which is much quicker than individually. For double sized bases, you can use the same techniques.
The materials used
The materials I used for this project are:
1/300th Buildings

Cardboard bases cut into 90x90mm squares.

A tube of Selley's No More Gaps (which is a rubbery sealer use by home decorators)

Cheap brown (Umber) poster paint for the bases

Cream paint (I mixed some white and yellow paint together) for drybrushing the bases

Flock (I use a mix of static grass and woodlands scenics)

Trees. A mix of Woodlands scenics trees, K and M, and other brands

Different coloured foilage from Woodlands scenics clump foliage

Pipe cleaners covered in flock(used for hedges)

PVA Glue

Miscellaneous scenic items such as fences, walls, gates, animals, crops etc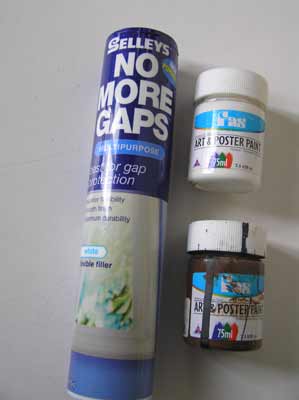 Click on the thumbnails to see the full sized image.